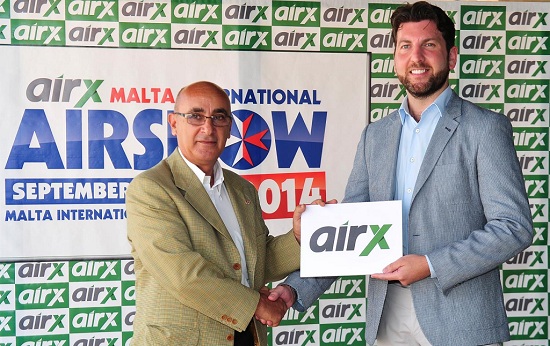 For the second year running, the Malta-based private charter company airX is supporting the Malta International Airshow through a title sponsorship agreement reached with the Malta Aviation Society (MAS) as organisers of this popular annual event.
The 22nd edition of Malta's airshow is once again being rebranded to include a Title Partner in the event name. The airX Malta International Airshow 2014 will be held on Saturday 27th and Sunday 28th September at the Malta International Airport.
Similar to last year's airshow, the event logo has been adapted to reflect the rebranded airshow.
Details of this renewed agreement and an outline of the events planned for this year's airshow were unveiled by Mr Joe Ciliberti, President of the MAS and Mr John B. Matthews, Chairman of airX Charter, during a press conference held this morning at company's Head Office in Vittoriosa.
In an upbeat and enthusiastic run-through of this year's airshow, Mr Ciliberti described the airX Malta International Airshow 2014 "as the next step in airshows" held in Malta with a record number of aircraft participating in the flying display. He announced that although talks are still underway, "this year should see more display teams coming to Malta at one go" at the airX Malta International Airshow 2014.
"The Malta Aviation Society is very grateful to airX for extending its financial support to ensure that Malta's airshow continues to grow every year. We are doubly grateful to airX as the company's generosity is also supporting the growth of the aviation sector in Malta and this in itself is an opportunity for young people to
pursue careers in a relatively new industry on the Maltese Islands.
We have found in airX the perfect partner to help us sustain the Malta International Airshow and we thank airX, as well as all other sponsors, for their continuous support", said Mr Ciliberti. He thanked the Ministry of Tourism, the Armed Forces of Malta (AFM), Air Malta and the Malta International Airport for their support in organising Malta's biggest aviation event.
airX Chairman Mr John B. Matthews reiterated the Company's commitment to continue supporting the growth of the airX Malta International Airshow and the aviation industry in Malta.
Mr Matthews announced that airX is in the process of enlarging its fleet of private business jets and as a result its operation in Malta will continue to grow. More than 50% of the company's fleet is registered in Malta.
"Malta has turned out to be a gem for our business. The 'aviation hub' concept is fast taking shape and such an environment helps airX to run the most efficient operation possible. Relocating our operation to Malta has indeed contributed to a more profitable operation. The country offers immense opportunity for further development of our business model and we are finalising plans to seize the huge potential that lies in Malta.
airX is living very exciting times and we will soon announce more positive news for airX and more growth in Malta" said Mr John B. Matthews. He described the second consecutive year of sponsoring Malta's airshow as "a very proud moment for airX" and pledged further support to develop Malta's aviation eco-system over the coming years.
It is estimated that around 15,000 persons visited the airX Malta International Airshow last year. A two-tier ticket pricing structure is also being launched for the first time this year aimed at attracting a higher number of people to visit the airx Malta International Airshow on Saturday. Entrance tickets for Saturday's event are priced at €13 each while the Sunday tickets are priced at €15 each. Children under 12 enjoy free admission.
The airX fleet includes:
• 1 Bombardier Challenger 850
• 2 Embraer Legacy 600
• 2 Cessna Citation
• 2 Boeing 737